ワモンゴキブリの視葉 Optic Lobe


西野浩史(北海道大学電子科学研究所)



ゴキブリの視葉についての知見は昼行性の昆虫に比べるとはるかに乏しいが、マデイラゴキブリ(Rhyparobia maderae)の概日リズムの研究には長い伝統がある(Homberg et al., 2003)。視葉に概日時計が存在することを示唆する先駆的な研究が行われたのもこの種である(Nishiitsutsuji-Uwo and Pittendrigh, 1968; Sokolove, 1975)。

視葉の基本構造は他の昆虫と共通で、視葉板(lamina), 視髄(medulla),視小葉(lobula)からなる(Sinakevitch et al., 2003)。視柄(optic stalk)が短いため、視小葉が前大脳側に陥入しているように見えるのが特徴的である。概日リズムのペースメーカの中枢として視髄近傍にある小さなニューロパイル(accessory medulla)が発見されている(Stengl and Homberg, 1994; Loesel and Homberg, 2001)。この領域は概日リズムの形成に寄与するpigment-dispersing hormone (PDH)免疫陽性のニューロンの支配を受ける。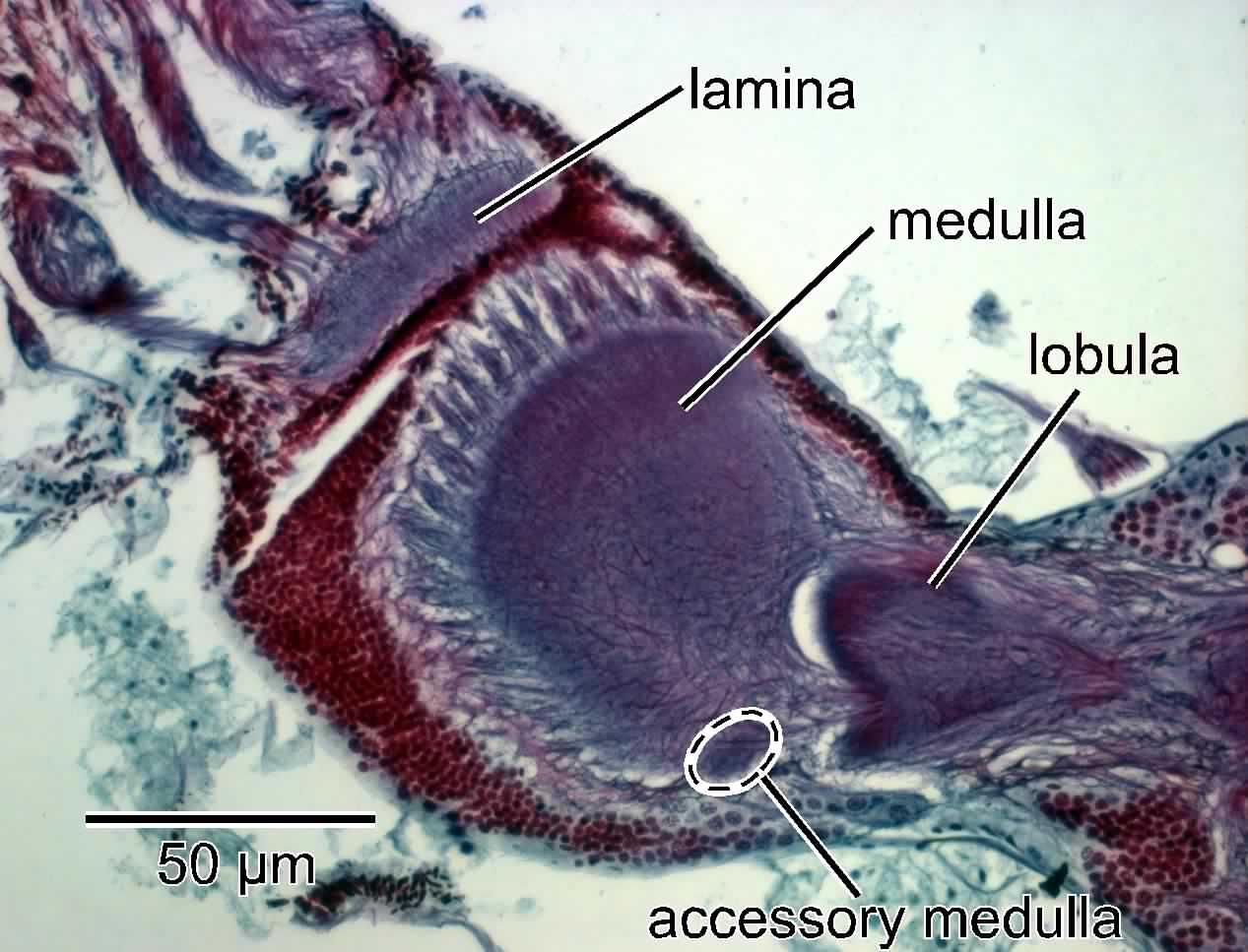 図1ワモンゴキブリ視葉の渡銀染色像(試料提供は北大・水波誠先生).



視葉に由来する介在ニューロンの軸索は束(トラクト)を形成し、同側あるいは反対側の脳半球に投射する。その形態はマデイラゴキブリとワモンゴキブリでほぼ同一である(Reischig and Stengl, 2002; Nishino et al., 2012)。7本のトラクトのうちT5、T7-2が反対側の視葉に投射する。また、これらのトラクトとは別にキノコ体の傘部に入力する視覚性投射ニューロンが4本同定されている(Strausfeld and Li, 1999; Nishino et al., 2012)。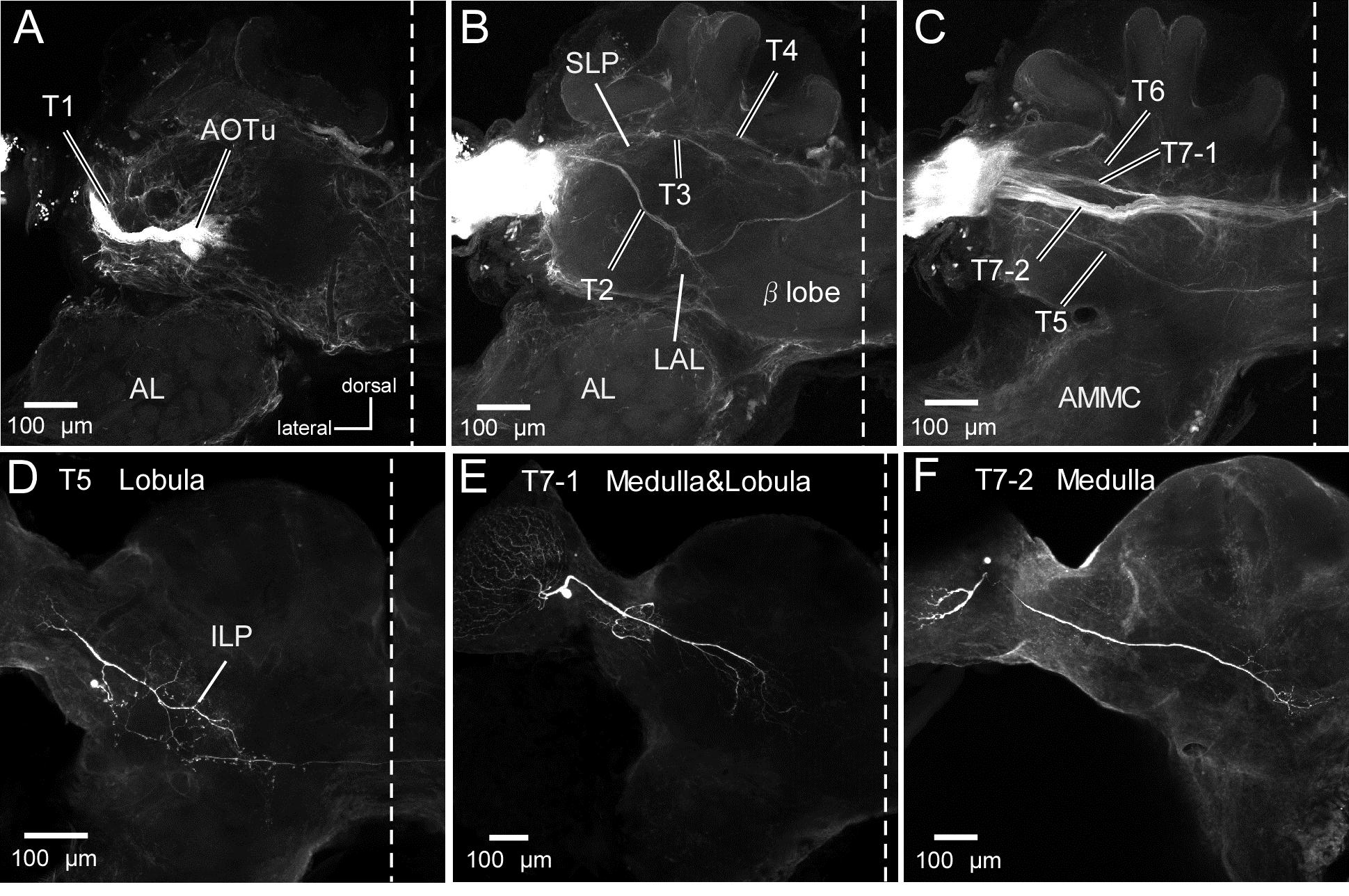 図2 ワモンゴキブリ視葉からの出力神経.脳の前方から後方のトラクトから順にT1-T7と命名(A)。D-Eはこれらのトラクトを通過する単一出力ニューロン。AL: antennal lobe; AMMC: antennal mechanosensory and motor center; AOTu: anterior optic tubercle; LAL: lateral accessory lobe; SLP: superior lateral protocerebrum.
Nishino et al. (2012)を改変。


参考文献
Homberg U, Reischig T, Stengl M (2003) Neural organization of the circadian system of the cockroach Leucophaea maderae. Chronobiol Int 20: 577-591.
Loesel R, Homberg U (2001) Anatomy and physiology of neurons with processes in the accessory medulla of the cockroach Leucophaea maderae. J Comp Neurol 439: 197-207.
Nishino H, Iwasaki M, Yasuyama K, Watanabe H, Mizunami M (2012) Visual and olfactory input segregation in the mushroom body calyces in a basal neopteran, the American cockroach. Arthropod Struct Dev 41: 3-16.
Nishiitsutsuji-Uwo, J. and Pittendrigh, CS (1968) Central nervous system control of circadian rhythmicity in the cockroach. III. The optic lobes, locus of the driving oscillation? Z Vergl Physiol 58: 14-46.
Reischig T, Stengl M (2002) Optic lobe commissures in a three-dimensional brain model of the cockroach Leucophaea maderae: a search for the circadian coupling pathways. J Comp Neurol 443: 388-400.
Sinakevitch, I, Douglass JK, Scholtz G, Loesel R, Strausfeld NJ (2003) Conserved and convergent organization in the optic lobes of insects and isopods, with reference to other crustacean taxa. J Comp Neurol 467: 150-172
Sokolove PG (1975) Localization of the cockroach optic lobe circadian pacemaker with microlesions. Brain Res 87: 13-21.
Stengl M, Homberg U (1994) Pigment-dispersing hormone-immunoreactive neurons in the cockroach Leucophaea maderae share properties with circadian pacemaker neurons. J Comp Physiol A 175: 203-213.
Strausfeld NJ, Li Y (1999) Organization of olfactory and multimodal afferent neurons supplying the calyx and pedunculus of the cockroach mushroom bodies. J Comp Neurol 409: 603-625.

RK-check 2013.3.2
---