他の動物の
視葉
カイコガ
セイヨウ
ミツバチ
クロ
コオロギ
ルリ
キンバエ
ワモン
ゴキブリ
クロ
オオアリ
ショウ
ジョウバエ
サバク
バッタ

アメリカザリガニの後大脳 Tritocerebrum



加賀谷勝史(デューク大学)


後大脳では第2触角ニューロパイル AnN と表皮神経ニューロパイル TN が挙げられる。囲食道縦連合と脳が連絡する部位に囲食道縦連合ニューロパイル OEN がある(Sullivan and Beltz, 2005; Kagaya and Takahata, 2011)。第2触角ニューロパイル AnN は第2触角の感覚受容器からの求心性投射と運動ニューロンのシナプス領域を含む(Sandeman and Wilkens, 1983; Habig and Taylor, 1982; Tautz and Mueller-Tautz, 1983)。表皮神経ニューロパイル TN は、背側の甲殻から求心性入力を受ける(Sandeman, 1969; Kinnamon, 1979)。OEN と AMPN/PMPN が脳内局所性介在ニューロンを介して回帰性回路を形成することで脳からの出力信号が生成されるモデルが提案されている(Kagaya and Takahata, 2011)。しかし、その回路の動作機構と、その機能、つまりその回路が歩行運動のみに限定されるのか、他の運動制御信号においても同様に使用されるのかはさらに詳細な回路網レベルでの解析が必要である。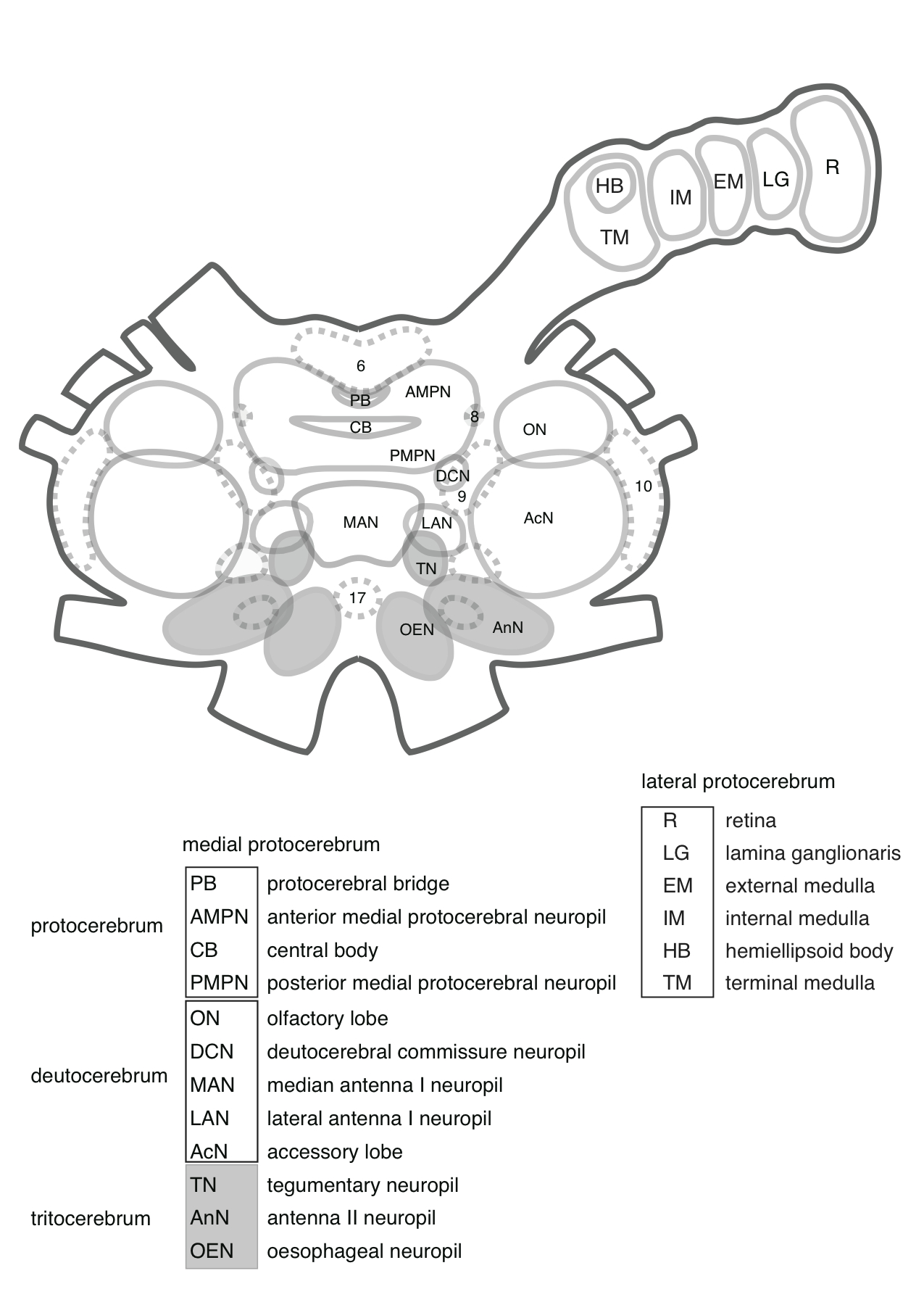 図.ザリガニの前大脳側方部(視神経節)



参考文献
Sullivan JM, Beltz BS (2005) Integration and segregation of inputs to higher-order neuropils of the crayfish brain. J. Comp. Neurol., 481:118-126.
Habig C, Taylor RC (1982) The crayfish second antennae. II-Motoneuron structure as revealed by cobalt chloride backfilling. Comp. Biochem. Physiol. A, 72:349-358.
Kagaya K, Takahata M (2011) Sequential synaptic excitation and inhibition shape readiness discharge for voluntary behavior. Science, 332:365-368.
Kinnamon JC (1979) Tactile input to the crayfish tegumentary neuropile. Comp. Biochem. Physiol. A 63:41-50.
Sandeman DC (1969) The synaptic link between the sensory and motor axons in the crab eye withdrawal reflex. J. Exp. Biol. 50:87-98.
Sandeman DC, Wilkens LA (1983) Motor control of movement of the antennal flagellum in the Australian crayfish, Euastacus armatus. J. Exp. Biol., 105:253-273.
Tautz J, Müller-Tautz R(1983) Antennal neuropil in the brain of the crayfish: morphology of neurons. J. Comp. Neurol., 218: 415-425.
---