| | |
| --- | --- |
| Japanese carpenter ant, Symbiosis between ants and lycaenid butterflies | |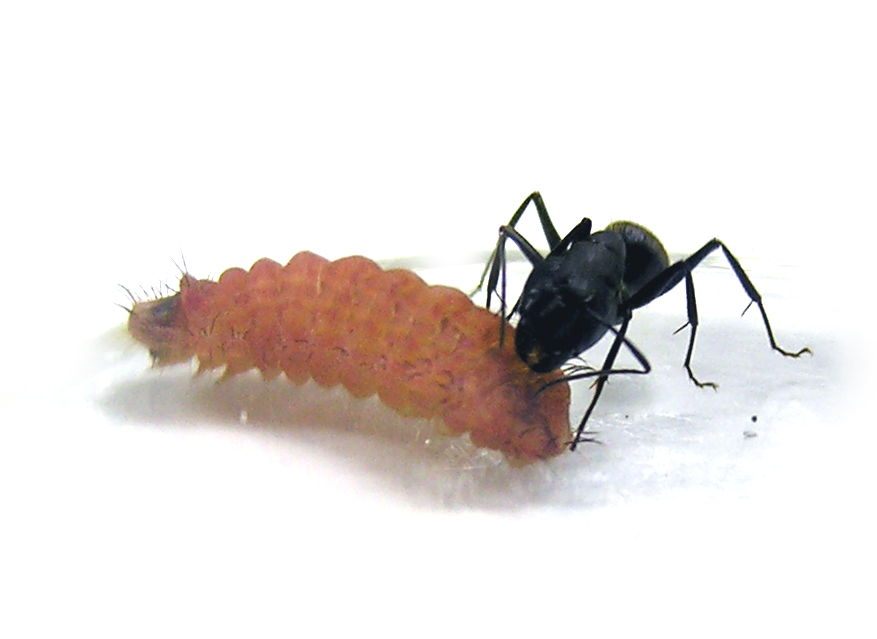 Fig.1
Masaru Hojo
Some rights reserved (CC:BY-NC-SA)


Fig.2
Masaru Hojo
Some rights reserved (CC:BY-NC-SA)


Fig.3
Masaru Hojo
Some rights reserved (CC:BY-NC-SA)

Author Comment
iwatsuki
2014-09-19
18:08
Fig.1,2: Honey dew secretions of the Japanese carpenter ant. The Japanese carpenter ant favors a cocktail of trehalose
and glycine (Fig.2: taste receptor neuron activity in an ant; Fig.1: ant licking the honeydew)
[adapted from Hojo et al., J Comp Physiol A (2008)
Photo provider: Masaru Houjyou, Universith of the Ryukyus]
Fig.3: Chemical mimicry in a species of Lycaenidae, Niphanda fusca by resembling hydrocarbons of males of Japanese carpenter ant, Camponotus japonicus. [adapted from Hojo et al., Proc Roy Soc B(2009)]
(Mamiko Ozaki)

Reference:
Hojo M, Wada-Katsumata A, Ozaki M, Yamaguchi S, Yamaoka R (2008) Gustatory synergism in ants mediates a species-specific symbiosis with lycaenid butterflies.J Comp Physiol A 194:1043-1052.

Hojo M, Wada-Katsumata A, Akino T, Yamaguchi S, Ozaki M, Yamaoka R (2009) Chemical disguise as particular caste of host ants in the inquiline parasite Niphanda fusca (Lepidoptera: Lycaenidae). Proc Roy Soc B 276:551-558.


Movie File


You don't have the permission to access.
Infomation




| | |
| --- | --- |
| ID | 133 |
| Author | iwatsuki |
| Date[/en | 2014-09-19 |
| View | 2132 |

Keyword



News


You don't have the permission to access.

Links




Relative URL