Resources of the IOSSIM




IOSSIM (Insect Olfactory System Simulator) is a software system developed for K computer. This system was developed as one of the projects for "Research and Development of Next-Generation Integrated Life-Science Simulation Software (ISLiM)" supported by Next-Generation Supercomputer Project of MEXT.


IOSSIM contains following one series of database and three softwares
1.Bombyx Neuron Database; BoND/IVBPF)
2.KNEWRiTE: sofotware for extracting neural structure of individual neurons
3.NEUROREGISTER: software for generating a neural network in a standard brain
4.NEURON_K+: software for simulating a large-scale neural network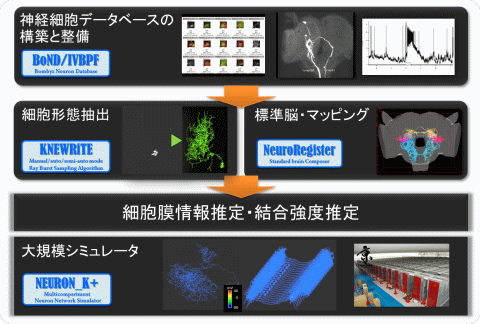 Figure 1. Structure of IOSSIMの構成


■BoND/IVBPF
This database contains physiological and morphological properties of more than 1600 brain neurons of male silkmoths (Bombyx mori).This database is partly open for public. Publised database

■KNEWRiTE
Extraction software of neuron structure. PC based software. Working on windows/linux conditions.

Download: Source Cord

■NEUROREGISTER
Software for mapping neurons (SWC format) into a standard brain using FIJI. Fiji is an image processing package. It can be described as a distribution of ImageJ (and soon ImageJ2) together with Java,
Download: Source Cord


■NEURON_K+
NEURON_K+ is a simulation environment for modeling individual neurons and networks of neurons based on NEURON, which is tuned for K computer.

Download: Source Cord 2012/05

Download: Soruce Cord 2012/09


How to install NEURON_K+
1. Uncompress NEURON_K+.
  > tar xvzf neuron_kplus_release[version].tar.gz
  > mv neuron_kplus_release[version].tar.gz neuron_kplus

2. Download original NEURON source codes and move.
  > wget http://www.neuron.yale.edu/ftp/neuron/versions/v7.2/nrn-7.2.tar.gz"
  >http://www.neuron.yale.edu/ftp/neuron/versions/v7.2/nrn-7.2.tar.gz%3C/a%3E%3Cbr />
  > tar xvzf nrn-7.2.tar.gz
  > mv nrn-7.2 neuron_kplus/nrn

3. Apply the patch to the NEURON.
  > cd neuron_kplus
  > patch -p0 < neuron_kplus_release[version].diff

4. Make MOD file compiler.
  > cd nrn
  > ../config_sh/config_mod_[machine].sh
  > make
  > make install

5. Make NEURON.
  > ../config_sh/config_nrn_[machine].sh
  > make
  > make install
Source Cord Page
+++Compile including custum mode
1. special (nrniv+追加mod(adding ion channel model)の実行ファイル)の作成
1a) nocmodl(GCC mod>C translater)のnrn/sparc64/binへのコピー

For example,
/home/group010/user0046/k+/v3/nrn/sparc64/bin
で
cp ../../x86_64/bin/nocmodl . 

1b) modファイルの準備
任意の場所で
tar –xvf mod.tar.gz
1c) コンパイル (Compiling)
mod内で
make_mod.sh
を実行

1d) 結果 (Results)
mod/sparc64/Special」ができているはず
2.Job Processing
2a) 解凍(Extraction)
適当な場所で(一応ルートを想定)
tar xvf hocjobs.tar.gz

2b) スクリプト書き換え
cd hocjobs
nkjob.shの
パスを書き換え

2c) 実行(Run)
pjsub nkjob.sh


---